4 x Woodland Blend Handy Sack
Add to wishlist
4 x Woodland Blend Handy Sack
Price:
Out of stock
We are not currently accepting pre-orders for this product. The quickest way to order your firewood is to put your details below, and we will email you the moment this is back in stock.
Be the first to know when back in-stock.
Tightly Hand Packed
Cut to 20/25cm & split
Approx. 100 logs
Can be moved with Sack Barrow
Free Delivery
Product Description
At a time of energy shortages and an environmental emergency, waste just isn't an option for our company.
Our sister company A1 Trees is now selecting and recycling from tree surgery operations the best species for us to solar-air dry and convert, alongside home-grown woodland timber, into firewood.
This product is a mix of high calorie hardwood such as ash, maple, oak, elm, birch, beech, hornbeam etc. and is a great option for those who want a naturally solar/air dried product and unbelievably it is our lowest priced product.
Woodland Hardwood is cut between to 25cm (with a +/- 5cm variation), spilt and will usually fit into a 30cm opening.
It is dried to below 20% average moisture content.
We are always looking for ways to improve the environment and what better way than to recycle, so help us to work towards a greener planet.
Please note: this product is mainly naturally dried and may contain imperfections such as loose bark, variations associated with natural drying and in some rare cases mold. None of this will affect the performance of the burn.
Free Delivery
We deliver on Monday, Tuesday, Wednesday, Thursday and Friday on our next day service
If you place your order at the weekend, your order will be processed by our team on Monday and will be delivered within 24 working hours.
You can also select the best day for your delivery at the checkout.
If you have any questions please call our office on 0800 112 3469 and our team will be happy to help.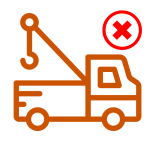 We do not deliver by crane or hiab. We deliver with a kerbside tail-lift lorry only. Kerbside delivery, can only manoeuvre off of pavement, not into garages/log stores etc  ​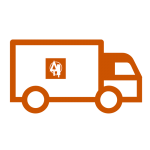 All deliveries are made on a tail lift lorry and lowered to the ground. A manual pallet truck is then used to manoeuvre the pallet into position.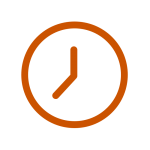 Our couriers deliver between the hours of 8am and 6pm.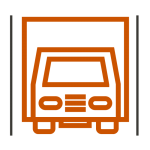 The road must be wide enough for a lorry to fit down, usually wider and larger than a dustbin lorry. If your access is restricted, please could contact our office.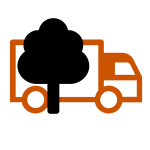 Please make sure that there are no overhead obstructions, such as overhanging trees or cables. Also please inform us of any height restrictions on the delivery route as this could prevent delivery.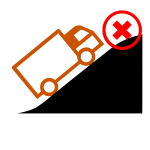 We cannot deliver onto sloping ground, as the tail lift must be able to lay flat on the ground.
We do not deliver with hiab or crane offloading. Deliveries will be made by a kerbside tail-lift lorry to put the pallet as near to your property as possible. The ground and road need to be a solid, level tarmac or concrete surface to use this system. If you have any doubts please contact us for further details. Broken concrete, gravel or sloping ground is unsuitable and pallets may only be left on the roadside at the driver's discretion if he deems it safe to do so. To ensure your items are delivered, you, (or someone on your behalf), will need to be there to sign for them.
* CAUTION RETURNED PALLETS
Returned goods if canceled whilst on route or returned due to ground/access conditions being unsuitable for pallet deliveries, will incur a return delivery charge. We will make arrangements to collect or return the goods at the cost of the return charge only. Alternatively, you can make your own arrangements to have the goods returned to us within 21 days.
Where a delivery cannot be made on the arranged day due to access or unforeseen circumstances we will attempt redelivery at your request on the following day or when arranged. There will be a redelivery charge and this will vary depending on the delivering depot. We will advise you of this cost prior to redelivery. If you have any queries concerning this or any other issue please call us immediately on 0800 112 3469.
To ensure your items are delivered, you, (or someone on your behalf), will need to be there to sign for them.
We use a national courier service to deliver. Deliveries are made during the hours of 8am to 6pm on Weekdays. We attempt to ensure timely deliveries however these can be affected by conditions outside of our control, for example, unforeseen issues on the road or bad weather conditions. We reserve the right to move your delivery
How to Store Firewood
It is very important that once you have bought and had your firewood delivered that you are storing the logs in the best way.
It is vital that the logs are under cover, a log store or our jackets are ideal.
The logs need to be stored in a place where they are off the ground in a dry area where they can get good air flow. Good air flow is crucial as it moves the air preventing any moisture in the air to be absorb by the logs.